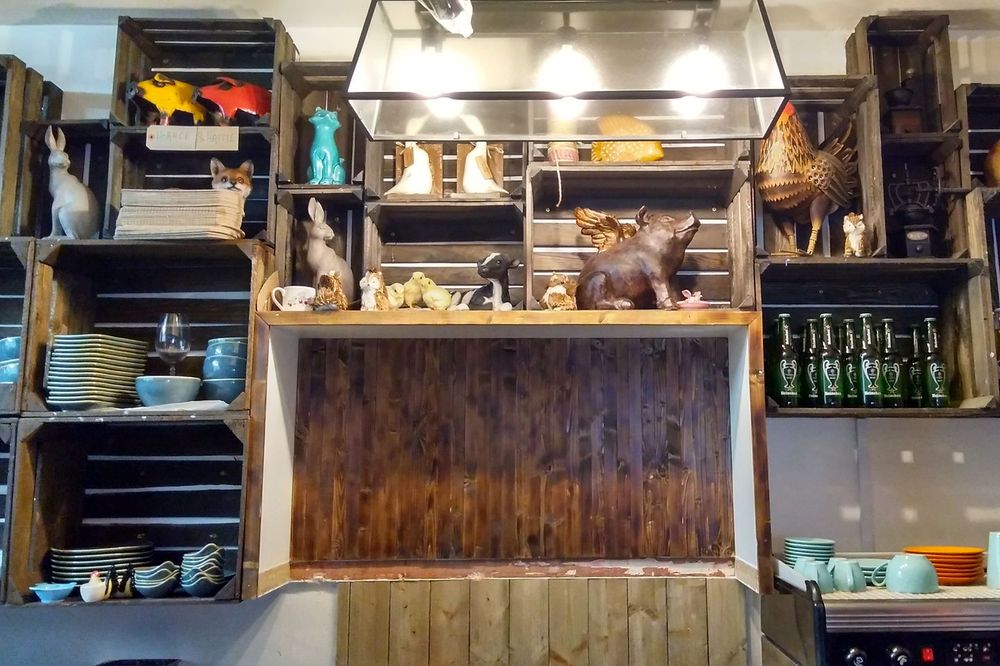 Vegan Hippo is a vibrant and cosy café tucked away in Rupert Street in London's Soho. The staff are friendly and look so youthful I wonder if there could be a more compelling argument for a plant-based diet.
The relaxed atmosphere is reminiscent of a community or student café, an increasingly rare sight in gentrified Soho, with brilliant surrealist animal paintings on the walls and a library of books to encourage long stays.
The establishment is obviously proud to be vegan, but undoubtedly welcoming to both vegetarians and meat eaters. I was pleased to find it close to full capacity on a Wednesday evening and, judging from overheard conversations, they host a diverse mix of customers too.
A Buzzing, Ethical Spirit!
Vegan Hippo are true to their ethics, while remaining completely unpretentious, charming, and welcoming. I feel this helps challenge long held misconceptions about vegans. Flyers for vegan demonstrations and animal charities enveloped the counter and wherever I looked, I saw an adorable model animal peeping back at me.
…I HAD TO TRY MORE THAN ONE DISH AS A MATTER OF JOURNALISTIC INTEGRITY
I first visited last summer after hearing great things from friends. Since then, they appear to have substantially expanded their menu; adding mushroom burgers, hot dogs and a courgette burger among others.
Food is ordered at the bar from a chalkboard menu and a toy animal of your choice is used as a table marker (I chose the bear). Dinner consisted of the jackfruit burger, the mushroom and buckwheat burger, and a hot dog (I had to try more than one dish as a matter of journalistic integrity).
The Taste… Wow!
The jackfruit burger, arriving on a bed of salty kale chips, was delicious; loaded with avocado, homemade mayonnaise and covered in a thick layer of sweet BBQ sauce; and with a convincing pulled pork-like texture that would satisfy any meat eater.
Despite the growing popularity of jackfruit as an ethical alternative to pulled pork, I have rarely seen it included in vegan menus in London, so it was a real treat and predictably, I'm told, it's their most popular dish.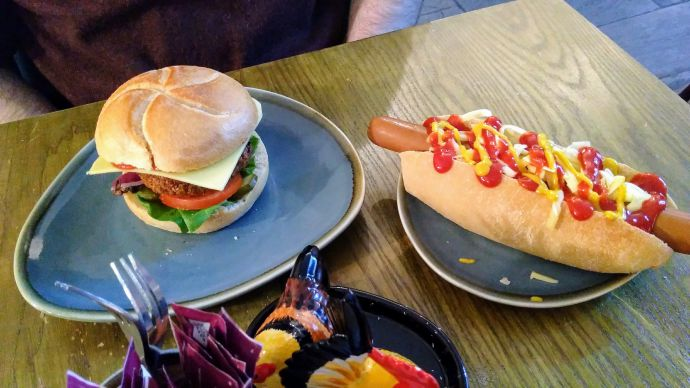 Mushroom burger and vegan hotdog
The mushroom and buckwheat burger looked a little miserable arriving all on its own but luckily the hotdog was not far behind to keep it company. Still, I couldn't help thinking that it would have been nice to have fries included rather than as a separate side dish.
…A CONVINCING PULLED PORK-LIKE TEXTURE THAT WOULD SATISFY ANY MEAT EATER.
The chunky patty was pleasing enough, but the flavours were slightly underwhelming in comparison to the almighty jackfruit. Thankfully the hotdog was great and generously covered in mustard, ketchup and onions.
Vegan-friendly Drinks & Desserts
The range of drinks was as expected – coffees, teas, juices and Whole Earth organic fizzy drinks, but I was a disheartened by the lack of alcoholic options and could only spot a few bottles of beer behind the bar and little else.
On my way out, I left grasping a chocolate coconut cake. It had an incredibly soft, rich centre and delicious flavour. It was an unexpected delight, certainly the best cake I've had in a long time and worth the visit alone.
What I ate: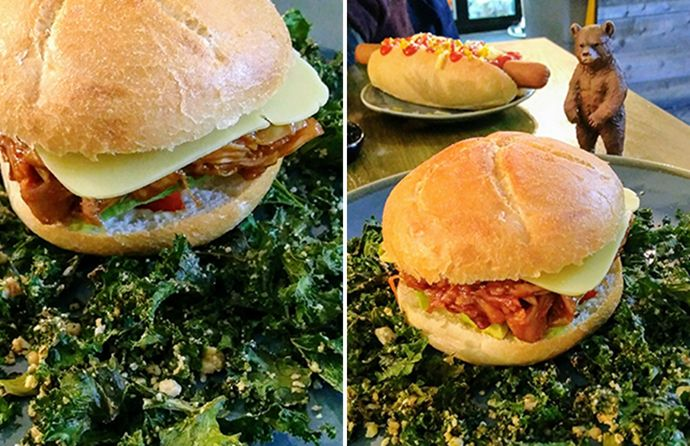 Jackfruit burger and vegan hotdog
| Food I tried | The cost |
| --- | --- |
| Jackfruit burger on a bed of kale chips | £7.50 |
| Mushroom and buckwheat burger | £6.50 |
| Hippo's hotdog | £3.50 |
| Chocolate cake | £3.50 |
| Fries (available as a side) | £3.00 |
A Convenient Location in Central London
Vegan Hippo is a short walk from Leicester Square and Piccadilly Circus stations and is an ideal place to refuel and relax after a long day out in London. It would be rude not try the jackfruit burger and chocolate cake. Long may it remain as a vegan gem of Soho.
Location, Contact Details, and Opening Times
The Vegan Hippo is a pure vegan cafe located in London's Soho. The owners are proud animal rights supporters and in addition to serving guests delicious vegan dishes, they spread awareness about the need to protect animals.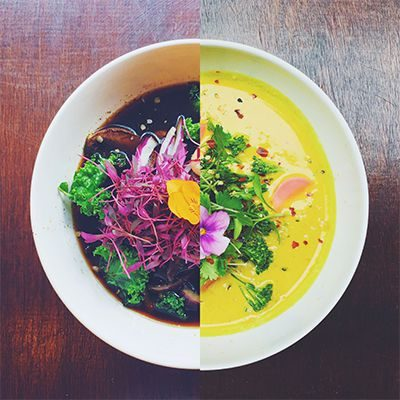 With a variety of breakfasts, mains, salads, and juices, patrons are spoilt for choice.
Opening Hours
| Day | Opening times |
| --- | --- |
| Monday | 6:30am - 9:30pm |
| Tuesday | 6:30am - 9:30pm |
| Wednesday | 6:30am - 9:30pm |
| Thursday | 6:30am - 9:30pm |
| Friday | 6:30am - 9:30pm |
| Saturday | 12:00pm - 9:30pm |
| Sunday | 12:00pm - 6:00pm |
Telephone: 020 7734 8574 Website: Vegan Hippo
…AN IDEAL PLACE TO REFUEL AND RELAX AFTER A LONG DAY OUT IN LONDON