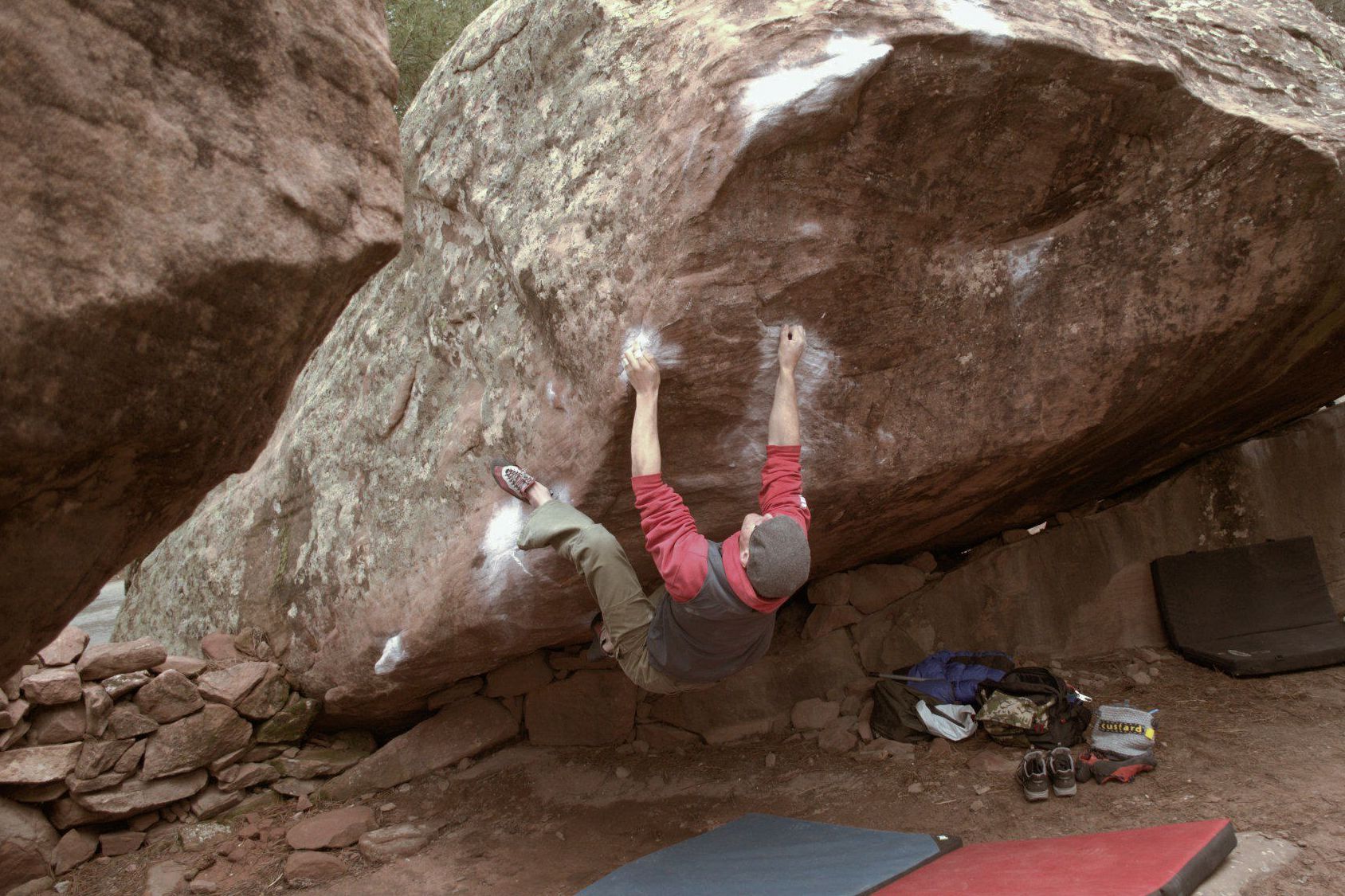 Veganism is about more than food alone. Animal products are used frequently in clothing, and sports equipment, amongst other things. This post is part of a series of vegan activity guides covering how to get started and practical ways to avoid the use of animal products.
What is Bouldering?
Bouldering is a form of rock climbing that does not use ropes, or harnesses and concentrates solely on movement on the rock.
It can be performed inside on artificial walls, or outside on boulders. It allows climbers to practice 'crux' (hardest) movements close to ground level, where it is safe and controlled.
Bouldering takes place all over the world and is enjoyed by people from many different backgrounds and cultures. Each path across the boulder is known as a 'boulder problem', which is normally about 8 movements long and has individual grades of difficulty.
Is Bouldering For Me?
The Benefits:
Great team building exercise
Supports problem solving skills
Can improve flexibility, strength, and physique
Can take you to breathtaking areas of the world
Bouldering is carried out at low heights, and although it is also classed as an extreme sport, if correct safety precautions are taken, it can be an enjoyable activity for the whole family.
Want to know more about the health benefits of climbing outdoors? Then you may be interested in the NHS "Livewell" article: Health Benefits of Rock Climbing
Costs and Equipment
The Costs:
£5.50 – £9.50 per session (depending on the city and the quality of centre)
£3 for shoe rental (approximately)
In the long term, if you become a BMC member (part of the British Mountain Council), you will save money as most climbing centres use this to discount your trips to their facility. Learn more on the benefits of having a BMC membership .
Equipment Needed:
We have contacted the brands mentioned below to confirm that the following examples are vegan friendly (free from animal products and not tested on animals). For a more extensive list of vegan climbing clothing or equipment, drop us an email and we'll be happy to help.
Climbing Shoes (Rock Shoes)
There is a growing trend for climbing brands to build fully synthetic shoes, which is great news for the vegan community. Companies like Evolv, Ocun, Tenaya, Five Ten, EB, Boreal, and Mad Rock all have a great selection of synthetic climbing shoes. Others like Scarpa, La Sportiva, and Red Chilli also have one or two.
The beginner shoe is designed to provide an all-round climbing experience, which focuses on helping the climber develop at a progressive rate.
Areas to consider when buying a beginner shoe:
Comfort Long lasting comfort will improve form in prolonged climbing sessions.
Support A medium to stiff mid-sole provides confidence in footwork and stability.
Durability A thicker rubber sole will increase the shoes' lifespan.
Climbing shoes come in male and female versions. However, it is interesting to know that a fair percentage of female climbers prefer wearing male shoes.
Testing out climbing shoes is essential as shoe sizes vary massively from brand to brand. Below are some examples of high-quality, vegan friendly, beginner climbing shoes:
La Sportiva: OxyGym
La Sportiva have come up with a climbing shoe which is not only comfortable, durable, and gives you the right amount of support; but it also has an extra quality. They are breathable and machine washable! This makes the Oxygym a great choice for a beginner shoe.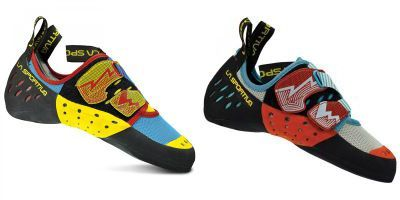 Men's Left, Women's Right
Evolv Defy Black/Elektra
A warm favourite amongst climbing enthusiasts, and America's best selling male beginner shoe. The "Defy Black" is the upgraded version of the Defy. Evolv's new rock shoe has a new antibacterial mesh to stop odours, and ticks all the right boxes of a beginner shoe.
The "Evolv Elektra" is the female version of the "Defy Black". This shoe is narrower and has higher arches than the Evolv Defy Black.

Evolv Climbing Shoes (Elektra Left, Defy Right)
Ocun Crest LU
This unisex beginner shoe provides a good level performance and is great value for money. The Ocun Crest has two versions, which are lace up (LU) and velcro (QC). Advanced climbers have started using these shoes due to their comfort, support, and great value for money.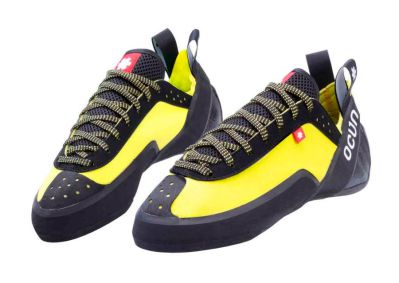 Ocun Crest Climbing Shoes
Four Tips to Remember When Choosing Your Climbing Shoes:
Avoid shoes that are too large (movement inside the shoe means less stability)
If you can remove the shoe from the heel while fastened, it is too loose
Avoid shoes that are too small (too much pressure and you won't be able to rest your weight on your big toe)
Start with a shoe that is fitted, yet comfortable (as you become more experienced you will be able to climb in tighter shoes)
Chalk Bags & Buckets
Chalk is essential for any climber. It is often used to remove moisture from hands, can prolong a climb, or even prevent a fall.
DMM – Traction Chalk Bag
Traction chalk bags are useful for bouldering on a circuit, as it keeps the chalk with you as you climb. This chalk bag is well engineered, enabling the climber to chalk their hands quickly with no restrictions, while the pocket keeps the chalk firmly secure.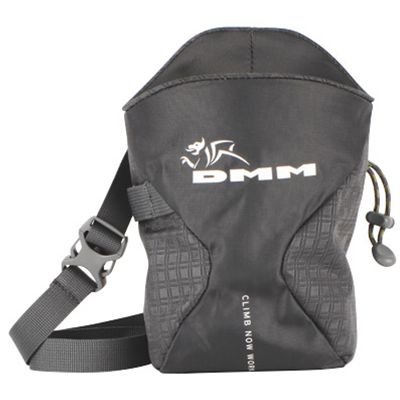 DMM – Traction Chalk Bag
Steph Davis – PrAna Chalk Bag
Chalk bags come in many styles. Steph Davis (vegan climber) teamed up with PrAna to create a limited edition chalk bag. Learn more about this fantastic vegan friendly bag .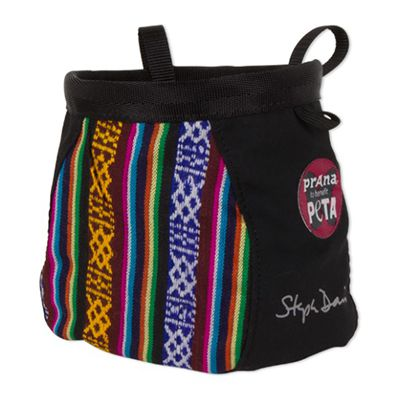 Steph Davis – Prana Chalk Bag Credit: PETA
Snap Climbing – Chalk Bucket
Some climbers prefer chalk buckets. In addition to allowing easy access to chalk throughout the climb, they usually have an added zipped pocket and/or hoops for the brushes.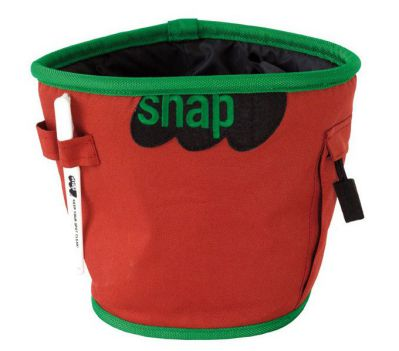 Bouldering Mats (Crash Pads)
The boulderer must never set off for a climb without a bouldering mat (safety first). If you are a beginner, you may consider first purchasing the 'ALTO' mat, as this is suited to most beginner to intermediate "problems".
Petzl mats have been engineered to perfection. More expensive to the norm, these mats have been built with quality and user-ability in mind.
NIMBO (Small)
This mat has been made to help cover and protect the gaps, which appear between other mats. Also it provides comfort when beginning a problem from the floor (sit-starts). It is considered as a small back-up pad. The NIMBO measures 75x50x3cm.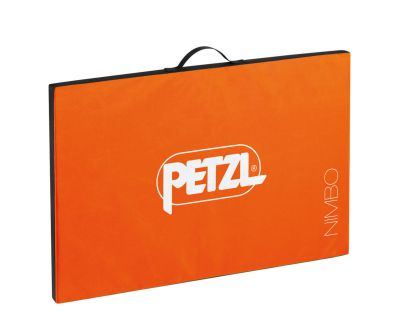 ALTO (Medium)
The ALTO has a hingeless, one-piece design, which offers fantastic protection if you fall. It is a medium sized pad, is light weight, and provides extra carry storage (it is standard practice to transport equipment inside the mat when the mat is closed). The straps (chest and waist) are easily adjustable and are comfortable due to the extra width. This mat can also transform into a seat with a back support. Great for a tea break! The ALTO measures 118x100x10cm.
CIRRO (Large)
The CIRRO is the largest bouldering mat in its range. It is exactly the same design as the ALTO. Just bigger. The CIRRO measures 148x118x12.5cm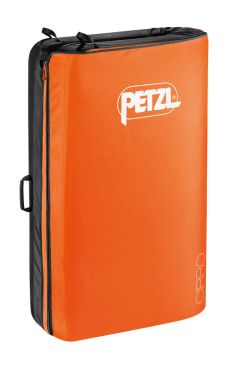 Brushes
For cleaning the rock, or indoor holds, nylon bristled brushes are the industry standard. A (vegan-friendly) brush we recommend is the Sublime Climbing Brush . If you choose to shop around be cautious, as some brushes are not suitable for vegans.
Rags (for outdoor use)
Rags are used to remove moisture from climbing shoes or rock surfaces, and hitting the rag on the holds can save you time with the brush. Most cloths or off-cuts of fabrics will suffice, although it is important that it is absorbent. Climbers tend to use anything from bar towels to t-shirts.
Guidebook
Guide books help you to navigate the best climbing locations, although you'll want to be sure it covers the discipline you require (bouldering/trad etc..). For bouldering in the UK we recommend Boulder Britain or Peak District Bouldering .
Climbing Etiquette:
Always keep your eyes open and never walk underneath a climber
If someone has started a boulder problem that crosses your route, do not start climbing
Share boulder problems and be courteous to others who are waiting to climb
Climbing etiquette is a fundamental part of bouldering. If you are interested in learning more about the etiquette of climbing, please see friction labs' article: In-depth information on climbing etiquette .
Warm Ups and Cool Downs
A well planned warm up is essential (especially in cold environments) as it reduces the risk of injury to the climber. Warm muscles are more pliable and are less likely to tear or snap.
Cooling down is also important as the body produces toxins during exercise. These toxins could lead to stiffness, soreness, and a slower recovery.
Want to learn more? Robbie Phillips (climbing coach) has written a comprehensive article on the topic ( How to warm up for climbing ) and discusses the benefits of both pre and post workout routines.
An Introduction to Technique
Climbing technique is more important than strength or power. You may hear experienced climbers mention terms like "rock over", "lay back", "crimp", "bridge", "heel hook", or "Egyptian". These are all important to learn, but first it is essential to concentrate on basic climbing movements. Practising the following techniques will help you to execute more advanced moves in the future.
Foot Technique
Use your big toe rather than the flat of your foot
Press down with the big toe to balance
Tense your calf for stability
Rotate into position and again to match (switch feet)
Avoid throwing feet above you (you could fall on your neck or head)
Learn to trust your feet
For progression: Try to place your foot on a foot hold and do not move or bounce it
Hand Technique
Use the tips of your fingers for small holds
Use the friction of your whole palm for large round holds
Don't squeeze unless you need to (your muscles will tire quickly)
Think several moves ahead before you reach
Learn to trust your holds (your instinct will progress)
Body Position
Press your hips close to the wall (this will lessen the weight on your hands)
Glide across the surface, remaining close, and avoid swinging out
Lean your body away from shallow or large round holds to keep grip
Keep your body in a stable position while securing the next hold
Exercise "Off Wall" to Reduce Future Injury
As with any sport, repetitive movements can lead to injury. This means that climbing without other forms of exercise is not good practice, and training opposing muscle groups is essential.
Climbing mainly utilises pulling movements. These movements will predominantly build strength in your forearms, biceps, and back; however this will cause imbalance and can lead to shoulder injuries.
To reduce the risk, focus your "off wall" exercise on pushing movements such as; push-ups, pike push-ups, and dips. These will help to build and strengthen the opposing muscle groups, such as your triceps, chest, and shoulders.
Bouldering Grades
When visiting indoor climbing centres, you will notice either a "V" grading system, or a "Font" grading system (click to enlarge).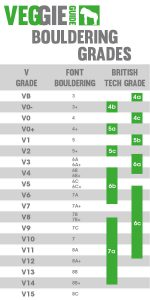 Want to learn more about bouldering grades? Check out 99boulders' post: In-depth information on bouldering grades .
Bouldering Safety
Climbing outside has it's risks. To minimise these risks:
Avoid climbing alone
Take a first aid kit (and a phone)
Tell people where you are going
Learn how to spot and manage your landings
The Alpkit team have written a fantastic article on the importance of bouldering with others .
How to spot for bouldering
How to arrange bouldering mats
Bouldering Further Afield
If you have got the 'climbing bug' and want to know where to boulder, then you may want to check out this great post on the Top 10 British bouldering venues for beginners by The British Mountain Council .
Remember that climbing is considered an extreme sport. If you are climbing outside, always let someone know where you are going and roughly what time you will be back. Plus if you decide to venture outside of the UK, it is advisable to get travel insurance . We recommend the BMC .
Want to learn more about bouldering? Then check out the UKC's Top Ten Tips For Indoor Bouldering .