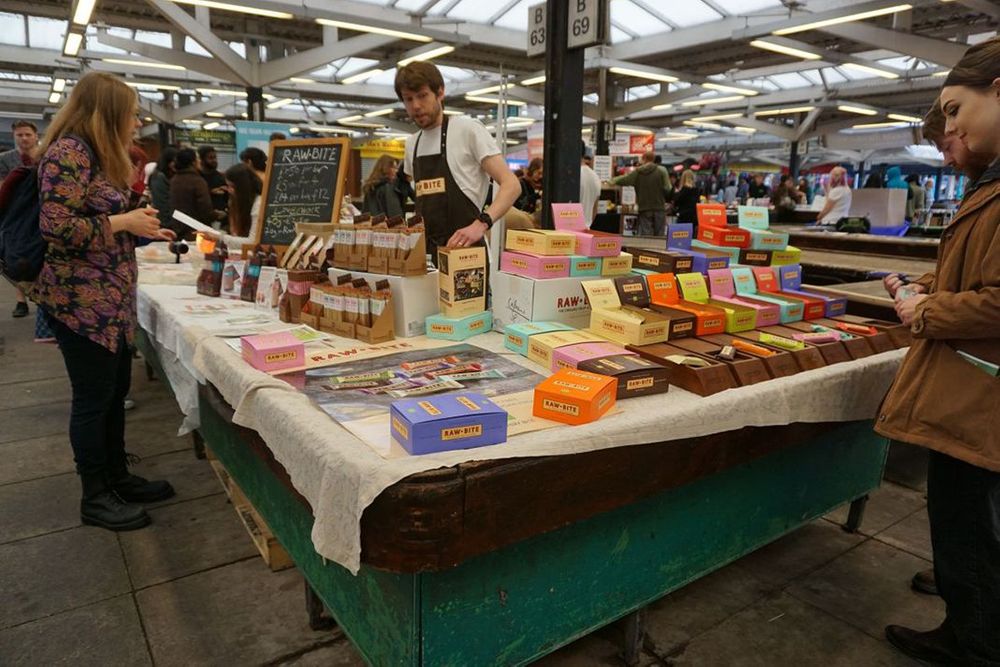 Walking through the alley between Gallowtree Gate and Market Square, I had a pleasant surprise. It was Sunday and raining but the market place was brimming with people. Not just people but vegan and open-minded people. The best kind. I'll hold my hands up now and say I wasn't expecting this. The idea of Leicester's own vegan market being a big hit seemed bizarre to me, probably because as a relatively new vegan I didn't know many vegans in Leicester. That day they all seemed to have ventured out to prove me wrong.
Despite Mother Nature not being on our side, we were well protected by the sturdy cover of Leicester's well known outdoor market. It wasn't until I stepped out in search of money, because needs must, that I realised it was still raining. I think at times I even forgot where I was and just became enveloped in the vegan bubble that had been created by the Leicester Vegan Community.
"THERE WERE SO MANY GREAT STALLS AND SO MANY HAPPY FACES FROM VISITORS TO STALLHOLDERS"
My hunger was satisfied by Temple of Seitan, who were serving delicious southern fried fare and Vie for Vegan where I bought mini strawberry macaroons after a chat about making aquafaba. The penultimate slice of New York cheesecake, from Mex it Up, was also mine to take home for later. This was also enjoyed by some non-vegan friends who were very pleasantly surprised how good they tasted.
My favourite food purchase had to be from Lettices. All week I have been enjoying slices of their 'Better Feta' any which way I can. Keen to eat it but at the same time not wanting it to go too quickly, I can't wait until their online shop opens on the 1st July.
My vegan home was treated too, with the purchase of prints, a candle and a mug. The beautiful artwork of Verna Poppy Designs, a young vegan artist currently living in Nottingham, was hard to chose from and so I bought three of her prints (and a mug) depicting human, animal and floral life together.
I also couldn't resist a print by Girl Against the Clones, whose text summed up marvellously how I feel about veganism. It will look great in my kitchen. My home purchases were completed by a delicious apple pie candle from Harper's Bizarre.
There were so many great stalls and so many happy faces from visitors to stallholders. Leicester Animal Rights did themselves proud showcasing their efforts and achievements and most importantly their passion for helping all animals. The cooking demos went down a treat, assisted most ably by the fantastically entertaining announcers.
I could wax lyrical about so many of the stalls but instead I'll leave a list and let you discover them for yourselves. One thing's for sure: Leicester has gone for the hat trick and won – historical fascination, sporting glory and now trailblazing compassionate living. If the comments on Facebook are anything to go by this may have been the first but it won't be the last.
Food stalls:
Absolutely Vegan: Burton's very own regular vegan market trader
Annie Mae Cheezie spread: vegan cheese spread
Caribbean Vegan Catering: Leicester's own and long-standing Caribbean caterers Trini Foods will be serving up for the masses
Currant Affairs: Leicester health food shop serving snacks and fast food
Farrinheight Foods: homemade vegan pop up
Greens Vegan Catering: mobile vegan catering company
Happily Raw: raw food delivery
Karma Collective: pure vegan shop in Birmingham
Lakeside Ethical Treats: vegan sweets, chocolates and other snacks
LuVegan: cakes
Mex It Up and Unless Hardcore Vegan Catering: street food collab
Mithaas: pure veggie Indian food restaurant
Numinums: mobile cafe offering organic vegan falafel and salad boxes
Raw food Rosie: vegan brie cheese
Rawbites: raw chocolate and health bars
Temple of Seitan: vegan street food specialising in fried "chicken"
Totally Vegan: fresh filtered coffee and specialist teas, cold snacks and cake
Trishul Raw Chocolate: raw chocolate treats
V Active
V:GD: raw desserts
Vegan Grindhouse: gourmet Americana style street food
Vegan pizza Co: fresh baked pizzas
Veggies Catering: tasty, wholesome snacks + information exploring the links between diet, animal suffering and the environment
Vie is for Vegan: gluten free/allergy free cakes and sweet treats
Vork Pie: vegan pies
Whipee Gelato:…
Willow & Dove: vegan chocolates, cakes and sweets, free from gluten, soya and refined sugars
Artists / Craft makers / clothes / other:
5050 Hydrate: water charity
Bad Alice illustration: artist
Black Star Printshop: local vegan screen printers with their benefit t-shirt and tote bag stall
CanWeFollowAlice: musician bringing handmade designs
Clean & Natural: organic skin and haircare line
Freet Footwear: vegan barefoot shoes
Girl Against the Clones: eco-friendly greeting cards and more
Grace's Rest: non-profit rescue of exotic animals in crisis
The Green House: plants
Harpers Bizzare: vegan Candles
IUVO Skincare: cosmetics entirely suitable for vegans
Kaitlyn Elverson
Katya Kulkova: vegan artist
Leicester Bonsai Cacti and more: bonsai, cacti and other plants
Leicestershire Vegan Families: will be doing free arts and craft activities for kids
Sunu Ker Beauty: vegan hair care products
Tiny Talk Leicester: baby singing and signing classes
Charities
Animals in Need: Animal rescue centre
Hope for horses: campaigning group
The Horses' Voice: horse rescue charity
Notts nibblers: rodent rescue charity
Viva!: general information