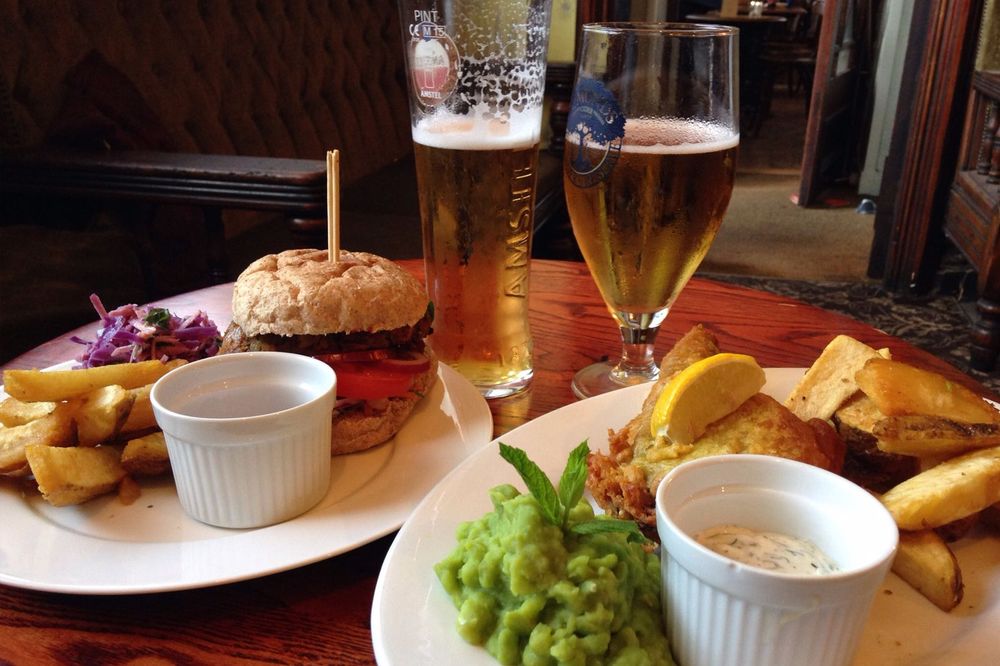 There's been a lot of hype recently around Nottingham's only pub to offer a 100% vegan food menu. Situated in the city centre of Nottingham, The Peacock made the decision to reopen after its refurbishment with the brave addition of a shiny new vegan kitchen. The pub had previously been a firm favourite with veggies and vegans for quite some time in the Nottingham area; offering most of its food with vegan equivalents meant that no one missed out!
The Peacock opened its doors on Wednesday 7th September 2016, with a newly decorated bar area, plenty of vegan friendly booze and a new menu entirely free from animal products.
Feeling Hungry?
The joy of knowing you can eat whatever you want without having to ask what's in it, or requesting to modify it in any way, is fabulous! The Peacock has a large menu that offers nibbles and sandwiches, as well as main courses. Some of the food that caught my eye on the menu were dishes such as:
Warm chicken, stuffing and mayo sandwich
Sharing platter with pakoras, samosas, bruschetta, and chilli and chips
Peacock seitan burger
Asparagus, minted pea and caramelised onion tart with mustard mash & veg
Lasagne with chips and garlic bread
This is just a small sample of the food on offer. They also do an all day breakfast and Sunday lunch, so whatever you fancy there's something on the menu for everyone.
Using words such as 'chicken' and 'fish' has thrown a few people, but the pub has assured everyone that all of their food is free of animal products.
It's Affordable and it Tastes GOOD
What I loved about The Peacock is that it's not overpriced in the slightest. Nothing on the menu costs more than £7.95 and the vast majority of dishes are under £7.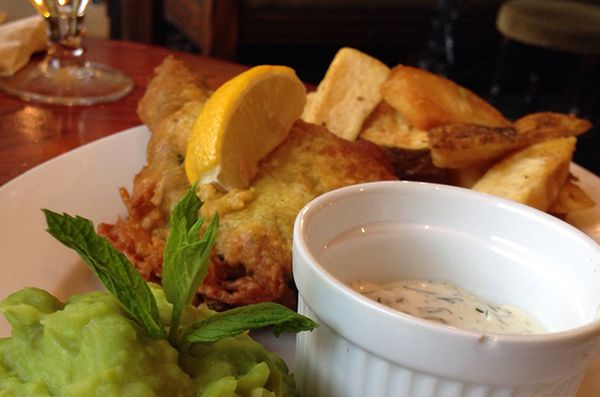 The sandwiches, which are made using bread from local company 'Bake Off and Pie' all come with homemade chips and are just £3.95. I don't think that can be rivalled at many other city centre pubs, let alone anywhere offering vegan options.
On top of the food being affordable, it's also very tasty. On my visit I sampled the Fish and Chips, and the Peacock Seitan Burger.
I got a very generously sized battered 'fish' along with chunky homemade chips, mushy peas and a pot of very tasty tartar sauce (All for £6.95). Everything was flavoured very well and I was particularly impressed with the 'fishy' taste of the tofu fish.
The Seitan burger was again flavoured exceptionally well. The texture was lovely and it came in a soft brown bun with a side of chips and slaw (Even more of a bargain at £6.50).
The Boozy Bit
For those of you who like a tipple, you won't be disappointed with the choice of alcoholic beverages on offer. The Peacock has a healthy collection of vegan friendly drinks, including:
4 different White Wines
4 types of Red Wine
2 Rosé's
Prosecco
2 Lagers
Cider on draught
The only thing that they don't have currently is real ale on tap, but according to the pubs twitter page, they are hoping to stock vegan-friendly real ale in the near future.
Where to find The Peacock pub
The Peacock is situated just outside the main shopping area of Nottingham. It's official address is 11 Mansfield Road, Nottingham; placing it as one of the closest pubs on Mansfield Road to the centre.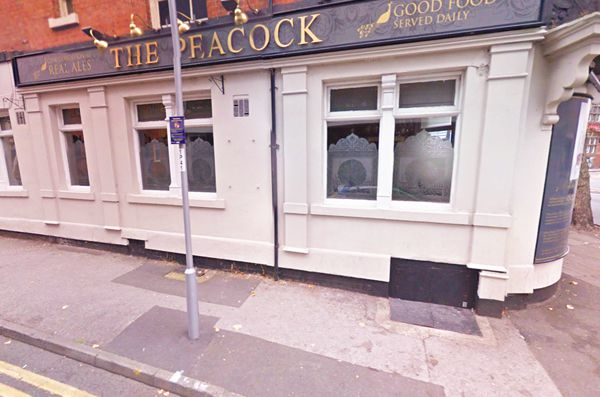 It's easily accessible by public transport being a short walk from the Victoria bus station, but if you do drive there's ample parking on the streets behind it such as Bluecoat Street and North Sherwood Street. There are a few free spaces, but as it's the city centre, you'll probably have to pay.
A Little Success for Plant Power
I have no doubt that The Peacock will be a roaring success. With its friendly atmosphere, quick service, tasty food, and large drinks selection; it'll be a hit with everyone, not just vegans.
This pub is a proof that you can offer a plant based menu and still keep the feel of an authentic pub. This helps everyone to feel welcome. I really hope The Peacock keeps up the good work and continues to have the support of vegetarians, vegans and meat-eaters alike!