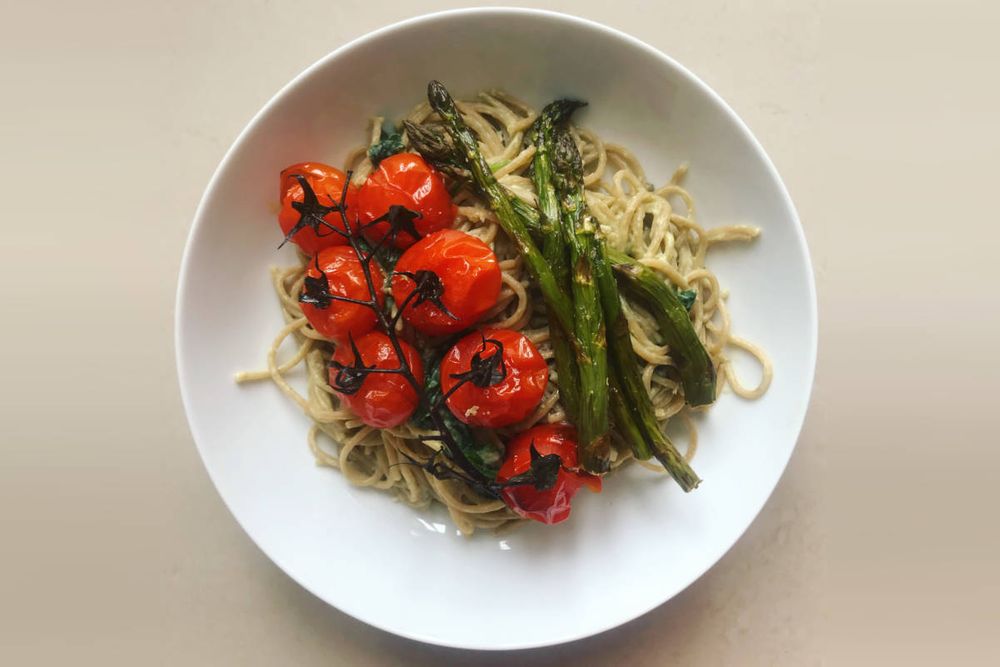 A great weekday dinner when you don't have much time to spare but want a filling and nutritious dinner. The spaghetti is served with English asparagus and tomatoes on the vine, however these can easily be replaced with other vegetables you have in your fridge — such as roasted broccoli, peppers or mushrooms.
This recipe serves 3
Ingredients:
300g wholemeal spaghetti
Roughly 12-16 tomatoes on the vine, or 3 handfuls of cherry tomatoes
10-15 asparagus stems
1-2 tbsp olive oil
3 handfuls of spinach
Sea salt
For the sauce:
1 large avocado
2 tbsp soya coconut yoghurt
200-300ml coconut milk
Juice of 1/2 lemon
1 tbsp olive oil
2 garlic cloves
Method:
Boil a pan of water and cook the spaghetti according to the instructions on the packet (this may vary).
Pre-heat the oven to 180 degrees and place the vine tomatoes and asparagus in a tray, with a generous drizzle of olive oil and a pinch of sea salt — roast for 12-15 minutes.
While the pasta and vegetables are cooking, place all the sauce ingredients into a blender and pulse for 1 minute. If it looks too thick, add more coconut milk until you reach the consistency of pasta sauce.
Once cooked, drain the spaghetti and place it back into the pan with the avocado sauce and spinach. Cook on a low heat for 5 minutes until the pan is steaming and the spinach is limp — again if the sauce becomes too thick, continue adding coconut milk.
Serve in large bowls, top with the asparagus, tomatoes and a pinch of sea salt.
Enjoy!