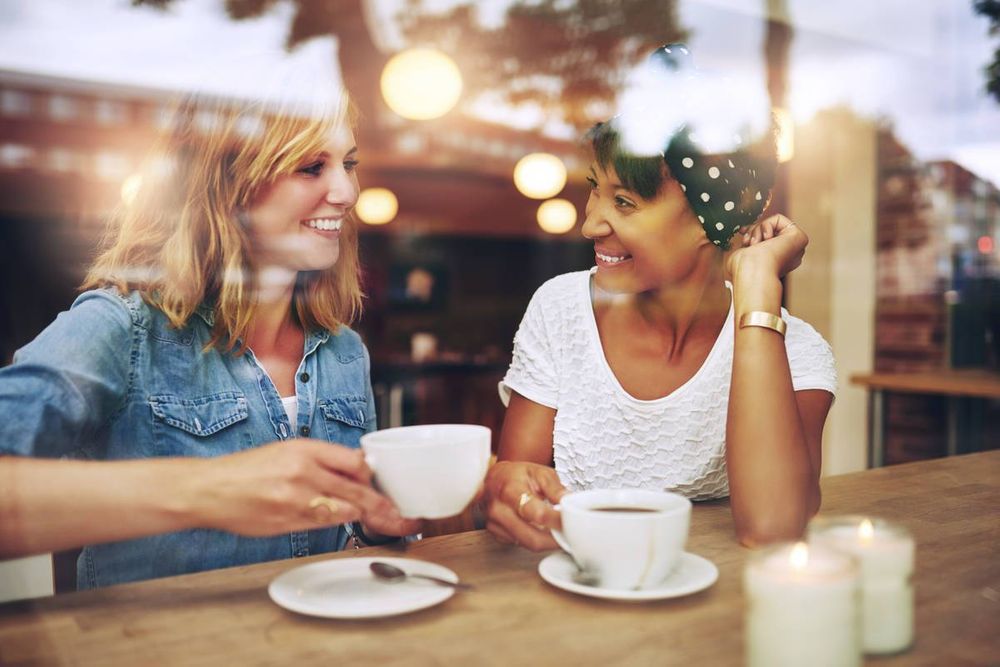 Believe it or not, Leicester is a vegan-foodie paradise. In fact, the term vegan was coined in Leicester by Donald Watson, who established the Vegan Society in 1944 — the city's vegan food scene has been on the rise ever since. Below, we explore some of our favourite vegan-friendly Leicester cafés for you to enjoy an aromatic coffee or a tasty plant-based piece of cake.
Coffee Ethic
Coffee Ethic is a vegan-friendly café located on Queens Road, the main street running through the vibrant Clarendon Park, an area popular amongst professionals, young families and students. This little enterprise offers fair trade, organic coffee with a range of gluten-free, dairy-free and vegan options.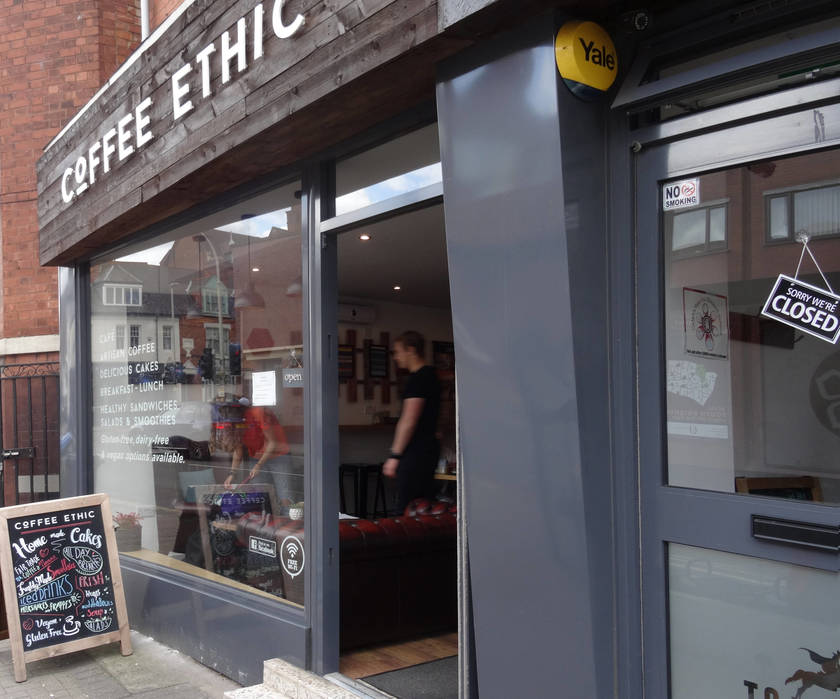 Coffee Ethic on Queens Road in Leicester
The menu includes home-made vegan pancakes, porridge, smoothie bowls, nourishing salad bowls, sandwiches, wraps, smoothies and milkshakes.
The café has a well-suited, cosy and homely feel, and there is a selection of adult and children's books which invite you to stay and admire the display of cakes and bakes that few can resist.
Pictures of Coffee Ethic in Leicester
Coffee Ethic hosts a monthly afternoon tea, priced at just under £15, featuring a delicious selection of freshly prepared sweet and savoury vegan delights! If this interests you, places are limited, so they ask that you book in advance.
What is the story behind Coffee Ethic?
Tasneem, the café's founder, previously worked in training, though her long-standing passion was healthy food and fair trade coffee. When she found out that she was intolerant to dairy, a few years ago, it was a challenge to find dairy-free options in coffee shops. From this, Coffee Ethic was born.
Tasneem, owner of Coffee Ethic on Queens Road in Leicester
Tasneem encouragingly notes, "We have had an amazing reaction from customers including those who are not currently following a vegan diet. It is great to see so many people enjoying our afternoon teas with family and friends in a wonderful atmosphere.
Part of our ethos is to create healthy and tasty recipes. Our food is made fresh to order and prepared in our kitchen. Two local independent bakers supply us with freshly baked cakes and slices including delicious vegan and gluten-free treats".
Coffee Ethic Details:
Address: 111 Queens Rd, Leicester, LE2 1TT
Website: Coffee Ethic Facebook Page
Opening Times:
Monday-Friday: 8:30am-5pm
Saturday: 9am-5pm
Sunday: 10am-4pm
The Pantry
The Pantry is a plant-based café/deli located in 'The Lanes', characterised by winding cobbled streets, bristling with fantastic independent shops and eateries.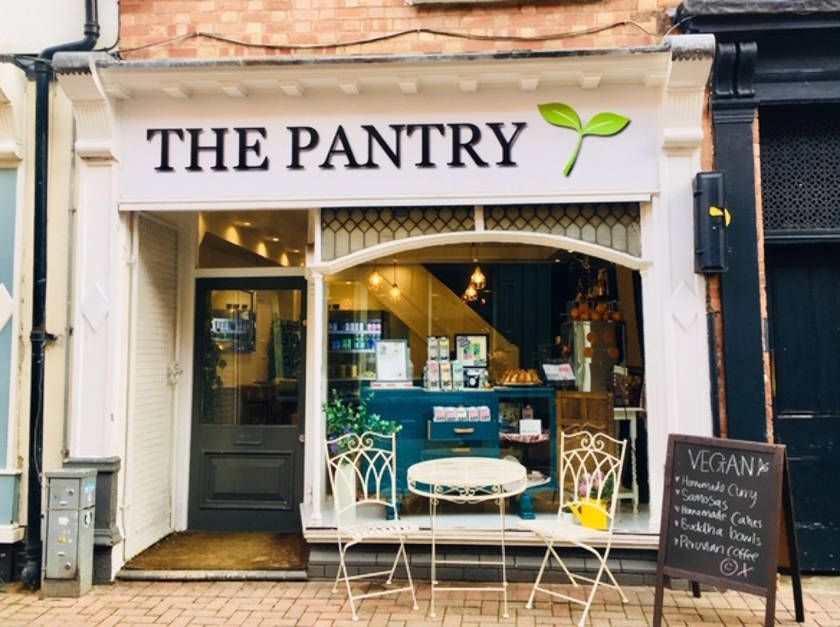 The Pantry on Loseby Lane in Leicester
Run by Arti Chudasama who previously worked as a fashion designer, it's not surprising that the interior looks like it could belong to a bohemian neighbourhood in London or New York.
Inside The Pantry Vegan Café in Leicester
The Pantry serves a selection of home-made Indian and Asia-inspired dishes including curries, samosas, pakoras, and Buddha bowls, as well as freshly baked cakes.
What is the story behind The Pantry?
When Arti moved back to Leicester after years of travelling and working in the fashion industry, she started eating more plant-based foods with the aim to improve her health.
Arti, owner of the Pantry on Loseby Lane in Leicester
"I am hugely influenced by fashion, travel, colour, texture and flavours" she says. "Preparing food is my art; it is a creative extension of myself. My evolving menu allows me to experiment with flavours and keeps me inspired." Arti's first plant-based cookbook is coming out next year so keep an eye out!
The Pantry Details:
Address: 29 Loseby Lane, Leicester LE1 5DR
Website: the-pantry-vegetarian-cafe-and-deli.site
Phone: 0116 319 4747
Opening Times:
Tuesday-Friday: 9:30am-4pm
Saturday: 10-4pm
Sunday-Monday: closed
Healthy Louisa
Healthy Louisa is one of Leicester's newest plant-based cafés/delis, where vegan is not an 'option' — it is everything! Located in the city centre, the café offers breakfast and lunch items including porridge and toast with various toppings (the home-made cashew butter is a must).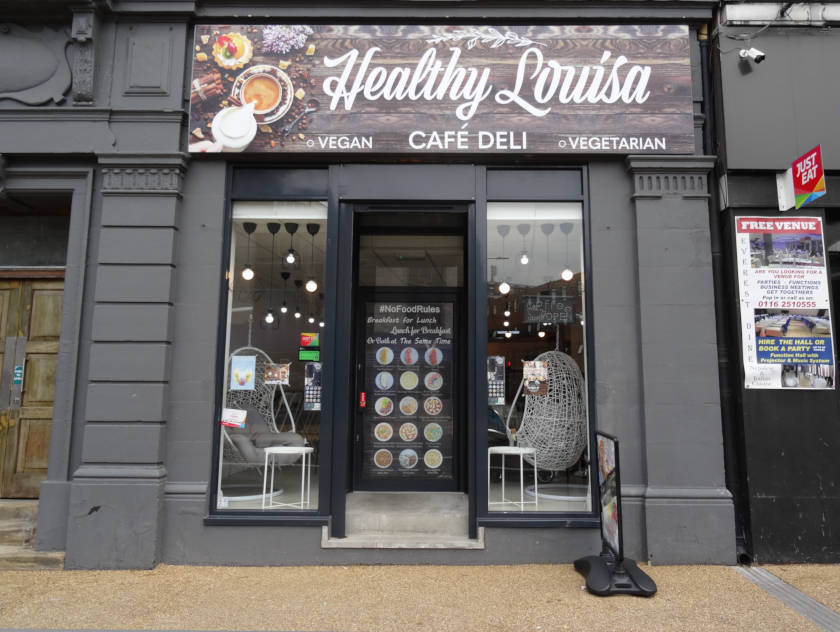 Healthy Louisa on Belgrave Gate in Leicester
The menu also boasts creamy chickpeas, vegan 'chicken' and 'duck' dishes, and a variety of cakes, including chocolate fudge cake and blueberry crumble.
A selection of vegan foods available at Healthy Louisa
Food blogger, Luiza Cwikla, and her fiancé, Patryk Sikorski, launched the café in January 2019. Producing high-quality food made from scratch, the duo bake their own bread, crisp their own granola, churn cashew butter, blend hummus, and even cook their own baked beans. Their belief is "we don't want to serve our customers half products or ready-made meals".
What is the story behind Healthy Louisa?
"That is quite a funny story", says Luiza. "Healthy Louisa started a few years back, but we did not know it at the time. It started as a hobby. From a passion for cooking, developing new recipes and changing food habits. From a simple blog to the first café".
Luiza, owner of the Healthy Louisa café in Leicester
Luiza and Patryk wanted to address the issue of people not eating enough vegetables by demonstrating that plant-based food can be tasty and enjoyable. They also thought that Leicester lacked places like theirs, where you can eat delicious and healthy food.
Their latest initiative — 'suspended coffee' — has been inspired by the global movement under the same name. The concept is simple: when you walk into a participating coffee shop, you buy one or more hot drinks, which someone else, who is in need, can claim later on.
The couple decided to go one step further, and they also offer to 'suspend' food, too. The couple is full of brave ideas for the future — it will be fascinating to watch their business grow.
Healthy Louisa Details:
Address: Unit 1, 63 Belgrave Gate, Leicester LE1 3HR
Phone: 07521 672482
Website: healthylouisa.com
Opening Times:
Monday-Friday: 10am-3pm
Saturday: 10-5pm
Sunday: 10-4pm
Other vegan-friendly places to visit in Leicester
We hope you enjoyed our short list of vegan-friendly cafés in Leicester. Please note that there are many more vegan-friendly restaurants and cafés in Leicester that have not been highlighted. For more information, see Happy Cow — Leicester .