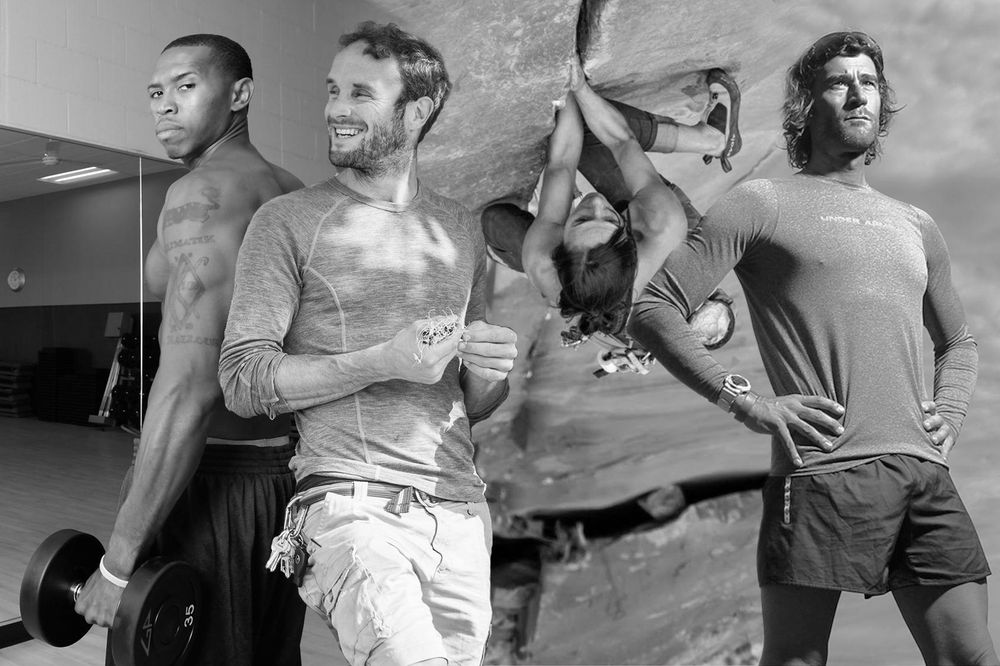 Perhaps you've just survived a month of Veganuary and realised you feel better than ever, and want a role model to ease you into your new diet. Or maybe you just want some inspiration and turn to Google for help.
Finding a list of vegan celebrities has never been easier: Enter the words in the search engine and you will quickly be supplied with a gallery of world-known faces such as Ellen Degeneres, Moby, Ellen Page and Ariana Grande. Dare to enter 'vegan bloggers', and you'll be scrolling endlessly…
While it's great to have such high-profile people and foodies propelling the vegan movement forward, there are other noteworthy achievers who prove the positive effects of a plant-based diet through their amazing successes.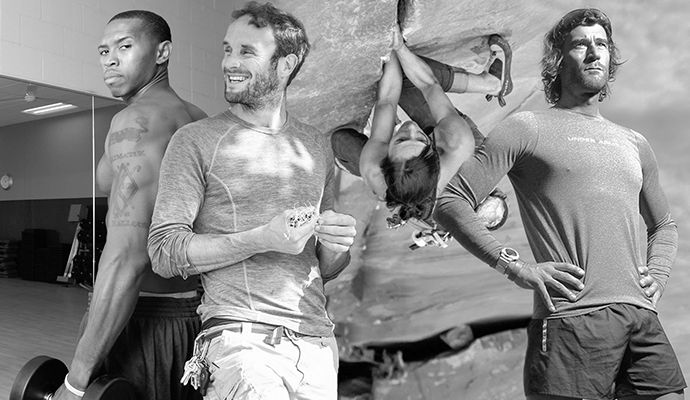 Collectively, they offer us a richer picture of veganism and its many benefits, with authentic stories to tell.
Individually, whether you're vegan or not, they may just inspire you!
Steph Davis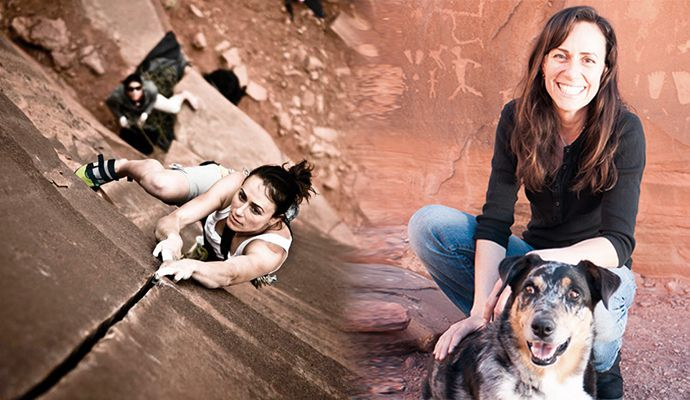 One of the leading female climbers in the world, Steph Davis flips all myths around veganism onto its back. Converting to a vegan diet to enhance her athletic performance, Davis went on to complete some of the hardest routes in the world, and was the first woman to summit all seven major peaks of the Fitzroy range in Patagonia.
After two weeks of being vegan, I was having performance increases in everything I was doing
Married twice, Davis consecutively lost both her husbands, Dean Potter and Mario Richard, to wingsuit accidents. Her story is one of perseverance and hope.
See more:
Visit her website: stephdavis.co Watch her documentary: A Perfect Circle
Follow and connect:
Facebook: @stephdavisclimb Twitter: @highsteph Instagram: @highsteph
John Lewis AKA Bad-Ass Vegan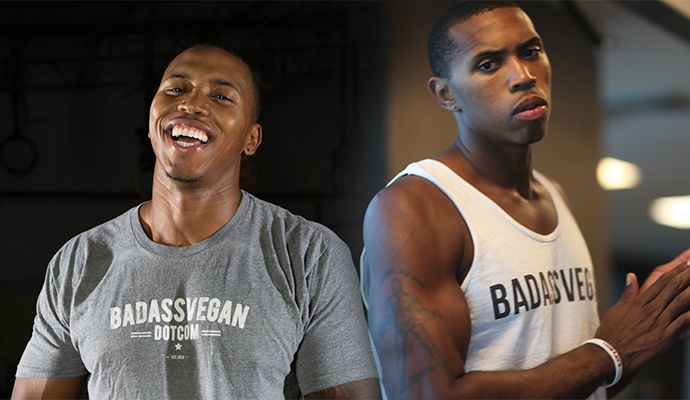 Similar to Steph Davis, John Lewis is someone who has completely distorted the traditional image of the skinny, frail, long-haired vegan guy wearing a tie-dye shirt.
It is just a feeling of peace that I think everyone should be able to have in such a twisted world. Why not do something that can improve the world with every bite that you take?
Better known as Badass Vegan, John Lewis is a fitness athlete and coach who has made it his mission to inspire health and fitness, but also compassion within others.
Coming out of a difficult childhood and growing up on fast-food, Lewis battled with obesity and health issues until he fully committed to a plant-based diet in his mid-20s.
Today, with over 95,000 subscribers on Instagram, he shares tips and motivation around fitness, nutrition and living a purposeful life.
See more:
Visit his website: badassvegan.com
Follow and connect:
Facebook: @badassvegan Twitter: @badassvegan Instagram: @badassvegan Snapchat: @badassvegan
Stephen & David Flynn AKA The Happy Pear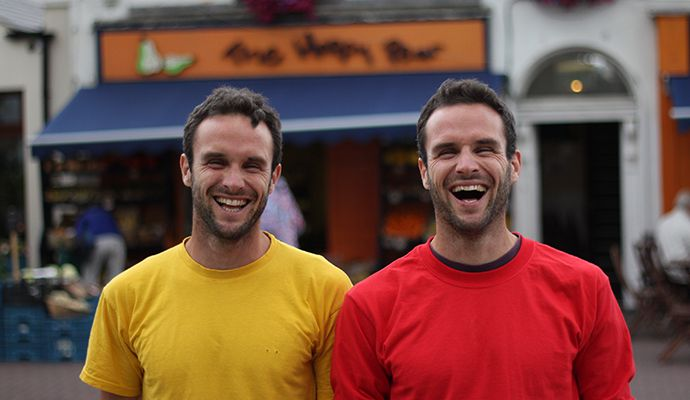 David and Stephen Flynn are the dynamic duo behind the Happy Pear. The identical Irish twins both became vegan despite being on opposite sides of the world travelling.
The idea is not to make people vegetarian or vegan, it's just to make them eat better.
Driven by the goal to kick-start a health food revolution, the twins opened the veggie cafe, The Happy Pear, in Ireland in 2006. Soon afterwards they launched their vegetarian and vegan cookbook, The Happy Pear: Recipes and Stories from the First Ten Years , which was a number one bestseller two years in a row, outselling Jamie Oliver, Nigella Lawson and Donal Skehan.
Alongside working in their cafe, the loveable brothers are highly active on social media, and have a YouTube channel where they share their favourite recipes.
See more:
Visit their website: thehappypear.ie Buy their book: The World of the Happy Pear
Follow and connect:
Facebook: @thehappypear Twitter: @thehappypear Instagram: @thehappypear Snapchat: @thehappypear
Dr Melanie Joy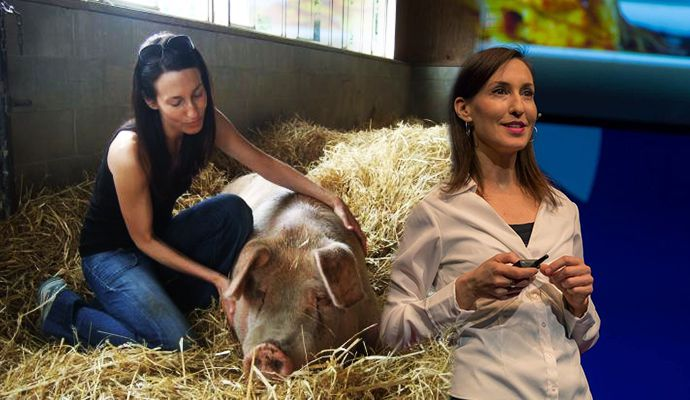 An award winning author and a Harvard-educated social psychologist, Melanie Joy is the founder of Beyond Carnism, a company whose goal is to shift the public conversation about meat.
Educating yourself does not mean that you were stupid in the first place; it means that you are intelligent enough to know that there is plenty left to learn.
Coining the term "carnism", meaning a belief system that conditions people to eat certain animal products, and not others, Joy's philosophy inspired the so-called "meat paradox": the dissonance between expressing affection towards some animals whilst eating others.
An expert at breaking down cultural perceptions of animal welfare into simple, thought-provoking ways, watch her popular TED video: Toward Rational, Authentic Food Choices.
See more:
Visit her website: www.carnism.org Watch her TED talk: Toward Rational, Authentic Food Choices Buy her book: Why We Love Dogs, Eat Pigs, and Wear Cows…
Follow and connect:
Facebook: @melaniejoyphd Twitter: @beyondcarnism Instagram: @beyondcarnism
Dr Neal Barnard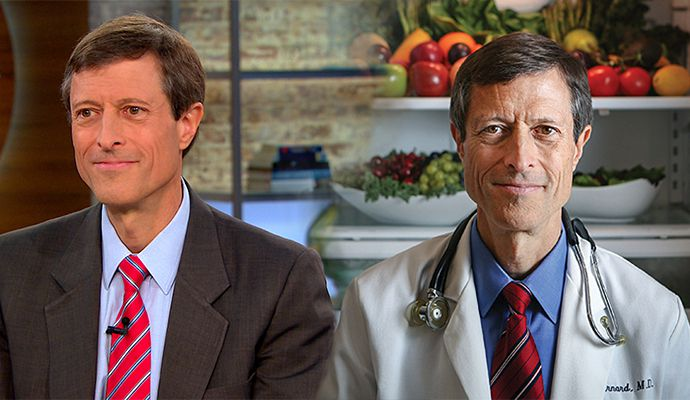 Integrating the field of nutrition into the medical sector, Dr Neal Barnard is the founder of the non-profit Barnard Medical Center, an organisation that focuses on preventing diseases, not just fighting them. He is also the founding president of the Physicians Committee for Responsible Medicine.
Exercise is beneficial, and I strongly recommend it. But a lack of exercise is not the primary reason for weight problems, and exercise can never take the place of a healthful diet.
The American doctor is particularly known for his breakthrough discovery that lifestyle diseases such as diabetes can not only be prevented but also reversed, by following a strictly plant-based diet.
Barnard has more than 70 scientific publications as well as 18 books, including the New York Times best-seller: Power Foods for the Brain, for which he featured on The Ellen Degeneres Show.
See more:
Visit his website: www.pcrm.org Buy his book: Power Foods For the Brain
Follow and connect:
Facebook: @NealBarnardMD Twitter: @DrNealBarnard
Rich Roll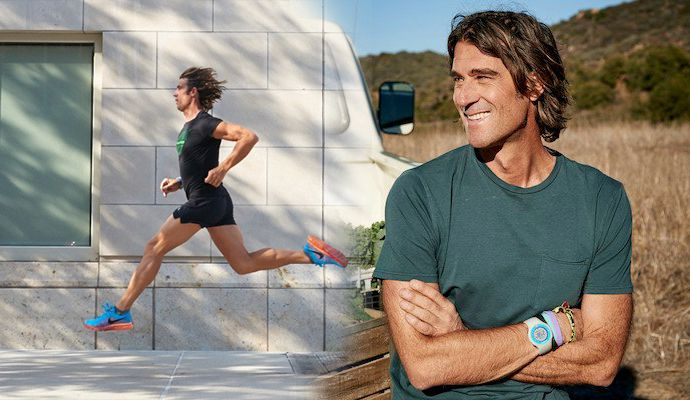 An ultra-marathon running champion, Rich Roll is a renowned vegan athlete with an inspiring survival story.
When the mind is controlled and spirit aligned with purpose, the body is capable of so much more than we realize.
Battling with drug addiction and alcoholism until his early 40s, Roll made a radical shift to veganism in a defiant attempt to break out of his unhealthy state and was named one of the 25 fittest men alive, by Men's Fitness Magazine, only a few years later.
His book Finding Ultra: Rejecting Middle Age, Becoming One of the World's Fittest Men, became a number one bestseller in 2012, and was quickly followed by the launch of his popular podcast, in which the 50-year old delves into topics of animal welfare, nutrition, and athleticism with thought-leaders such as Dr. Rhonda Patrick and many of the individuals above!
See more:
Visit his website: www.richroll.com Buy his book: Finding Ultra
Follow and connect:
Facebook: @richrollfans Twitter: @richroll Instagram: @richroll