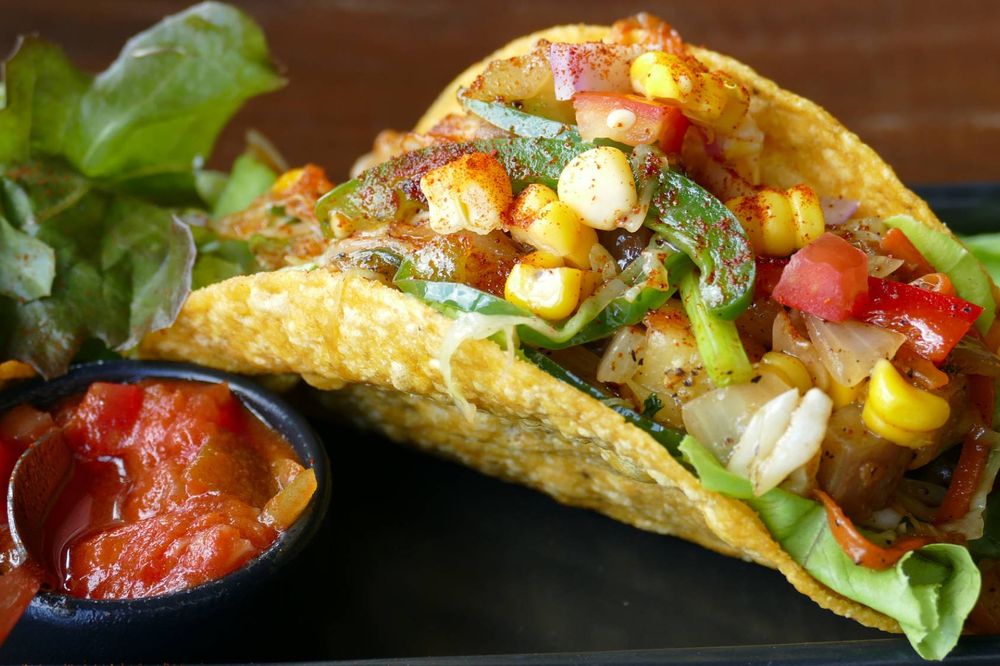 Once upon a time, being a vegan in London was a difficult task, as many restaurants offered limited menu options, or nothing at all. If we fast-forward to 2019, this is quite the contrary. With new vegan-friendly eateries popping up every year, it can be difficult to choose a place to eat. We have compiled a list of our favourite places for you to stop for brunch across London.
Pause — Spitalfields
Pause Café in Spitalfields is dedicated to providing delicious and healthy food to their customers. Although this cafe is not exclusively vegan, they have a delicious brunch and lunch menu for vegetarians and vegans to choose from.
With a strong Mediterranean influence, Pause Cafe is a great place to sample delicious breads, hummus and well seasoned Mediterranean vegetables.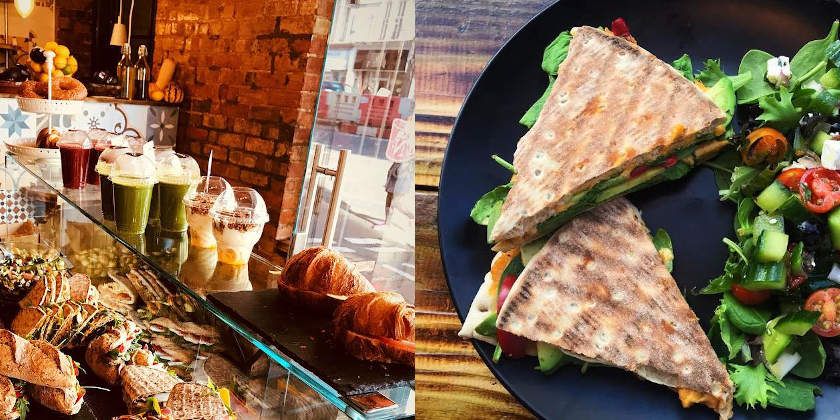 The classic brunch time special of smashed avocado on toast is accompanied by roquito peppers. You can also spice this combination up with chilli beans, deliciously succulent roasted plum tomatoes and mushrooms, to create a lovely plant-based brunch.
Pause has drummed up a vegan cult following for their delicious avocado, chilli hummus, spinach and sweet pepper flatbread, as well as their sweet potato falafel wraps.
Pause Details
Address: 13A White's Row, Spitalfields, London E1 7NF, UK.
Nearest station: Liverpool Street Station
Phone: 020 7998 8380
Website: N/A (see Instagram for food pictures)
| Day | Opening Times |
| --- | --- |
| Monday | 7:30am - 5:30pm |
| Tuesday - Friday | 7:30am - 5pm |
| Saturday | Closed |
| Sunday | 10am - 5pm |
Club Mexicana at The Spread Eagle
One of the leading reasons people choose not to go vegan is inconvenience. People are often unaware that there are so many vegan options for every type of cuisine and instead, believe that a vegan diet consists of salads and potatoes.
Brunch culture has become such a popular part of everyday life for Londoners, so it's always fun to find vegan brunch places that don't particularly fit the "norm".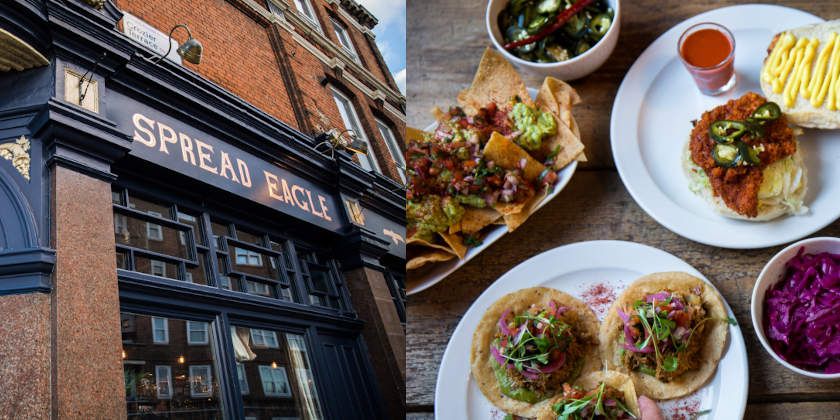 Club Mexicana adds a refreshing twist to vegan brunch and the chef Meriel Armitage has made it her mission to bring the most delicious and authentic vegan dishes from Mexico City to London.
The Huevos Rancheros with scrambled "eggs" and "chorizo", served with salsa, black beans and avocado, is a fantastic introduction to vegan dishes.
Club Mexicana Details
Address: 224 Homerton High Street, London, E9 6AS.
Nearest Station: Hackney Wick Overground Station
Phone: 020 8985 0400
Website: clubmexicana.com
Kitchen Opening Times
| Day | Opening Times |
| --- | --- |
| Tuesday - Friday | 5pm - 10pm |
| Saturday | 12pm - 10pm |
| Sunday | 12pm - 8pm |
"Please note our license only allows under 18s until 9pm"
Wulf & Lamb — Chelsea
Situated in the heart of Chelsea, the Wulf and Lamb is the place to go if you're feeling extra hungry. One of their most popular dishes is the Full Wulf Breakfast, which consists of a potato cake, borlotti ragout, toasted sourdough and an assortment of delicious breakfast sides.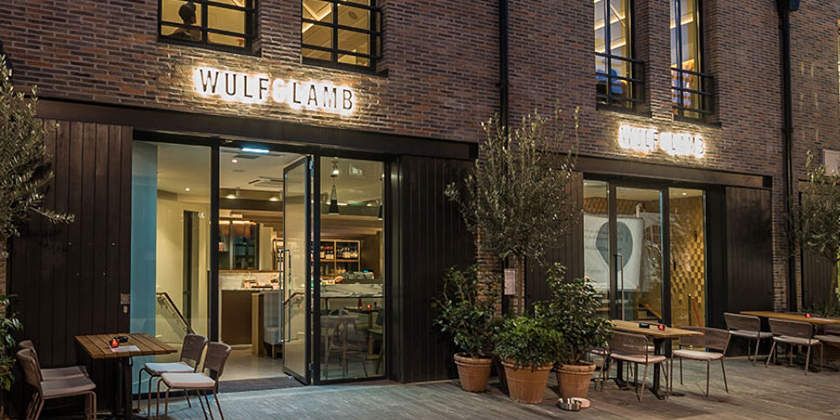 If you would like to try something a little different, then the house granola with spicy pineapple is equally delicious!
Wulf & Lamb Details
Address: 243 Pavilion Road, London, SW1X 0BP.
Nearest Station: Sloane Square Tube Station
Phone: 0203 948 5999
Website: wulfandlamb.com
| Day | Opening Times |
| --- | --- |
| Monday - Friday | 8am - 10pm |
| Saturday | 8am - 10pm |
| Sunday | 9am - 9pm |
Redemption Bar — Shoreditch
Shoreditch is known for the trendy bars and eateries and is becoming a hub for great vegan food. Some of the tastiest vegan restaurants in London can be found in this area, but one of the most sought after is Redemption Bar.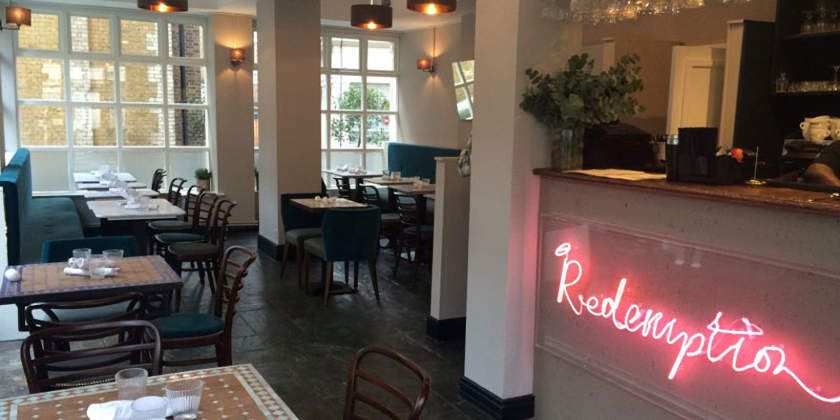 Redemption Bar is renowned for serving delicious savoury vegan brunches and lunches. One highly recommended dish is the sweetcorn and red pepper pancakes, which is a stunning twist on the brunch classic.
This is serviced with polenta, chilli, spring onion, a big dollop of chunky guac and roasted tomatoes. Delicious!
Redemption Bar Details
Address: 320 Old Street, London, EC1V 9DR.
Nearest Station: Old Street Station
Phone: 020 7613 0720
Website: redemptionbar.co.uk
| Day | Opening Times |
| --- | --- |
| Monday - Friday | 12pm - 10:00pm |
| Saturday | 10am - 10.00pm |
| Sunday | 10am - 5pm |
The Gallery Cafe — Bethnal Green
This is a highly recommended vegan brunch spot because of the atmosphere alone. The Gallery Cafe hosts live music, art exhibitions and even late night film screenings (although this isn't a brunch time activity, it's still highly recommended).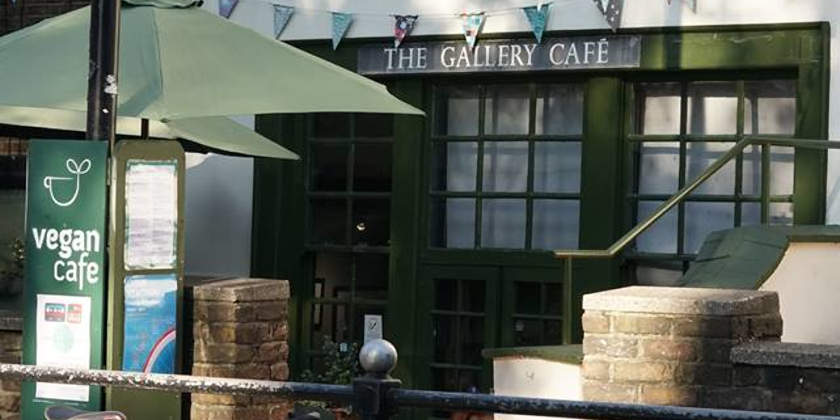 Here you will find more of a traditional brunch menu with a vegan twist, with dishes such as the vegan version of a "full English". This is a real crowd pleaser and is perfect for those times when you're extra hungry!
The Gallery Café Details
Address: 21 Old Ford Road, Bethnal Green, E2 9PL.
Nearest Station: Bethnal Green Station
Phone: 020 8980 2092
Website: thegallerycafe.wordpress.com
"Please be aware that we do not take reservations or pre-orders over the phone"
| Day | Opening Times |
| --- | --- |
| Monday - Friday | 8am - 9pm |
| Saturday and Sunday | 9am - 9pm |
"The kitchen closes at 8pm daily".
Exploring a Vegan Diet
Whether you're a vegetarian, vegan or are looking to take the journey to a fully plant-based diet, it's important to be adventurous when eating out. Many people who go vegan say that the hardest part about the diet, is dining out with friends.
More and more restaurants have diversified their vegan menus, making it even easier to enjoy a varied diet when dining out. If you're looking to begin your vegan journey, be sure to explore cuisines and flavours that you enjoy and look for a filling vegan alternative.
Did you enjoy our list? Please share this with your friends.