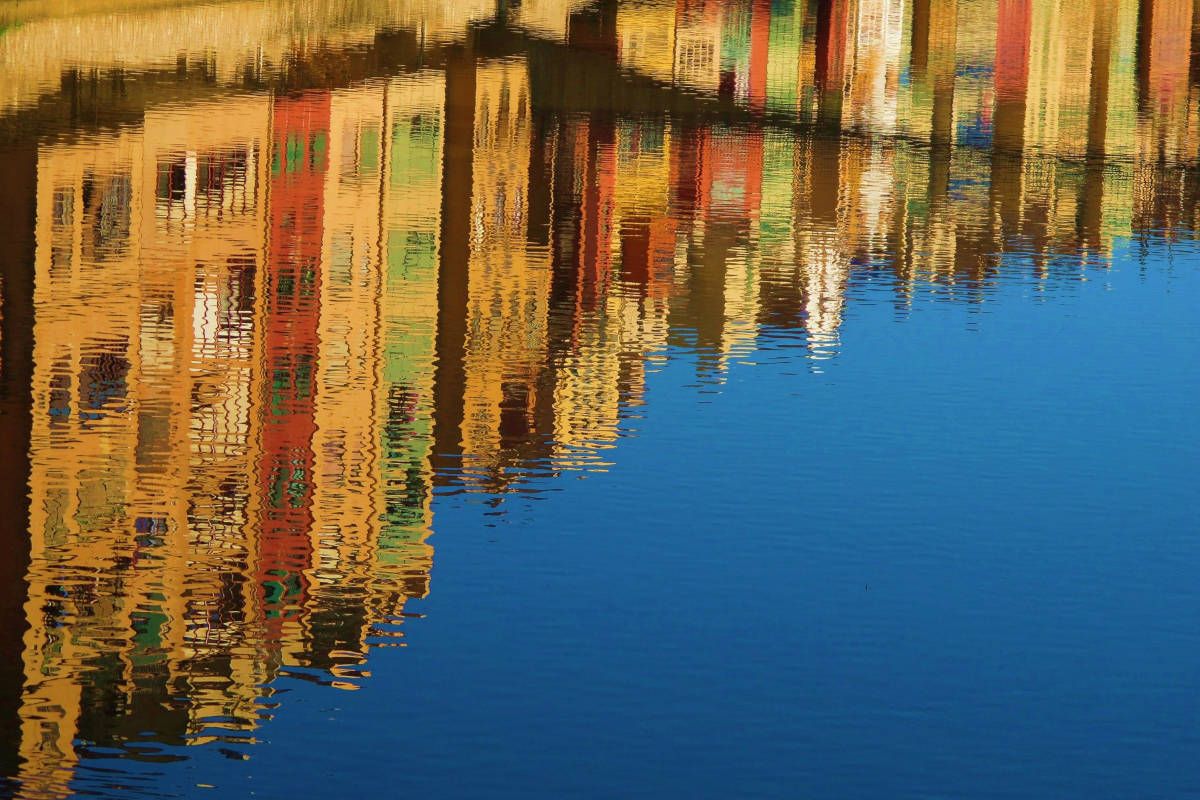 With interest in vegan travel on the rise, increasingly, holiday makers are looking to pack their conscience with their flip-flops. If you're not sure how to find good food, sustainable travel or animal-friendly activities, the following suggestions will help make your next holiday as gentle on our planet as it is delicious.
Choose a vegan-friendly destination
First things first, you need to decide on where to go. Fortunately there are now a myriad of destinations catering for vegans. Whether you're a foodie or an ethical fashionista you can find a destination that's perfect for you.
Top left: Brighton, top right: Croatia, bottom left: Edinburgh, bottom right: Morocco
Earlier this year
The Guardian
published an article crowning Bristol the most vegan friendly city in the world based on Google Trends data, with Portland and Edinburgh in second and third position.
Restaurant app, The Happy Cow , has also compiled a list, based on the number of vegan eateries in each location, with London, Berlin and Tel Aviv among their top destinations. And if you're heading across the pond? Peta lists Los Angeles, New York and San Francisco as their top places to visit.
Be mindful of your impact
As well as being vegan-friendly, it is always worth considering the environmental impact of your holiday. If it's feasible, aim to travel by train or bus rather than jumping on a quick flight.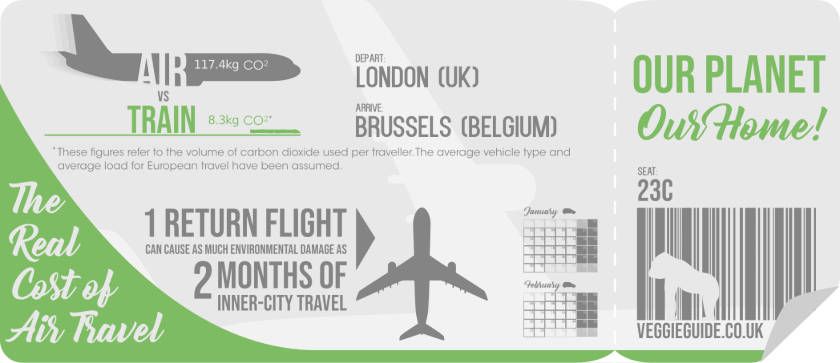 If travelling by plane is unavoidable, consider offsetting your flight emissions to reduce your carbon footprint. Many airlines now offer this service during the booking process or you can donate to a range of organisations that reinvest the money into sustainable projects.
Check out Fly Green , My Climate and Climate Care for inspiration.
Stay in vegan-friendly accommodation
Sharing economy sites like Airbnb are a great option for more sustainable travel, as the business model is based on peer-to-peer sharing of existing resources, which generally results in less energy consumption and produces less waste than traditional accommodation options.
Vegan Hotel in Mallorca, Spain — Ecocirer Hotel
Airbnb is also growing its experience network, and now offers some fantastic vegan activities to keep you entertained whilst mixing with the locals and supporting the community. Why not try a vegan street food tour in Mexico City, the art of making vegan cheese and cheesecake in Ubud, or a five course vegan tasting experience in Washington.
There are also some great accommodation sites specifically catering to vegetarians and vegans. Check out Veg Visits where local vegetarians and vegans list their homes to rent and kitchens to use, or Veggie Hotels which has B&Bs and guest-houses in over 60 countries worldwide.
Find places to eat on your travels
The days of being faced with only chips and a side salad may be numbered, but visiting somewhere new can still be daunting if you don't know where to start. Fortunately, there are some useful tools available to help find great vegetarian and vegan restaurants wherever you are on the planet.
The Happy Cow app is undoubtedly the most popular, and for good reason. With the massive rise of veganism over the past three years, the number of restaurant listings on the app has increased significantly with 1,352 listings added in 2016, 1,873 in 2017 and 2,241 in 2018.
So how does it work? Download the app and then simply type in your chosen destination to find restaurants in that area. You can search different categories — vegan, vegetarian, veg-options — so, if you're looking to cater for varying dietary requirements, it's easy to find something for everyone.
Trip Advisor is another useful resource, as the site includes information on whether a restaurant is vegetarian or vegan-friendly, as well as ranked lists for thousands of locations e.g. ' The best vegan restaurants in Melbourne '.
However, bear in mind that Trip Advisor's 'vegan options' can still be limited to the dreaded side salad and chips and restaurant ratings may not reflect the quality of their vegan options.
Learn useful phrases in advance
To avoid getting lost in translation, it can be helpful to memorise a few key terms before your trip, or if you're visiting a country with a significant language barrier, consider printing flash cards.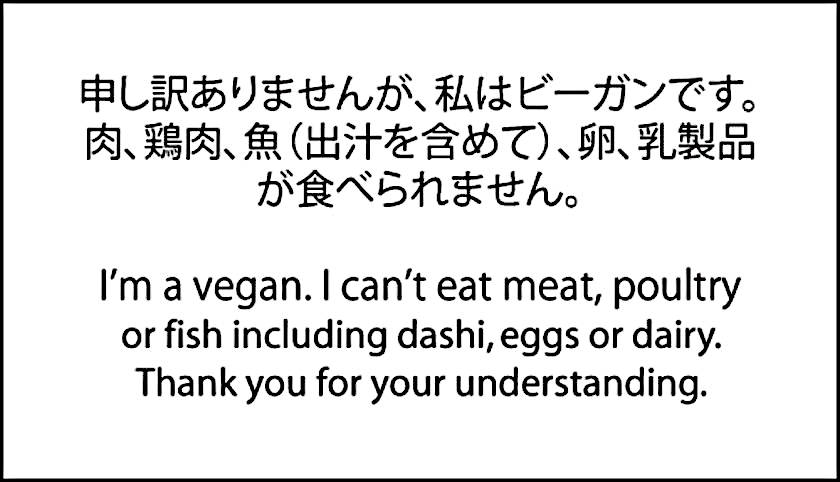 As an example, Just Hungry have some ready-made cards available to download in Japanese, which you can simply hand to your waiter to avoid any dietary mishaps.
And, if you're still stumped on the go, Google translate is a handy tool.
Specialist vegan and responsible tour operators
If all this planning seems too much like hard work, there are plenty of packages and tours catering for vegans.
Book Culinary Vacations offers a range of delectable food-based trips — from traditional cooking in Costa Rica to raw food retreats in Crete. Veg Voyages specialise in trips to Asia, covering Indonesia (Bali & Sumatra), Nepal, Malaysia, Sri Lanka, Laos, India and Thailand, and Veg jaunts and journeys is perfect if you're travelling alone and looking to meet like-minded people.
Responsible Travel and Humane Travel are also great options if you want to ensure that the activities on your trip reflect your values, as some countries can have very differing attitudes when it comes to animal rights.
Responsible Travel have an explicit list of the types of tourism that they will not engage in and Humane Travel donate a percentage of almost every booking to Peta.
Share travel experiences with others
For vegans, there are numerous additional decisions to make prior to travelling, so it helps to discuss travel ideas with other ethically-minded people.
Not only does this minimise the time spent researching, it answers questions you may not have known to ask, preparing you for the unknown and increasing the likelihood of a stress-free and enjoyable holiday.
What was your last holiday destination? Share your experiences and tips in the comments below.